Pressure vs. Power vs. Soft Washing: What's the difference?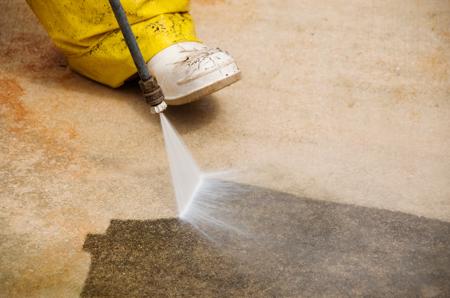 If you've made it to this article, you've probably heard of the terms "pressure washing" and "power washing" and probably even used them interchangeably. That's typically what we hear when speaking with friends and customers. Maybe you have even heard of the term "soft washing" when conducting some research. But are they the same thing? Is there actually a difference? Does Soft washing have anything to do with pressure washing? What even is soft washing? Let's find out.
Exterior Cleaning Basics
Almost all exterior cleaning can be accomplished through the use of a wide variety of chemical applications and by using a pressure washer. Degreasers, disinfectants, acids, bases, brighteners, and more can all be applied through the use of a pump sprayer or through a pressure washer. Pump sprayers are a great, cost-effective way to apply cleaning chemicals to ground-level surfaces and in small areas.
Pressure washer machines would be the next step up which offer a wide variety of benefits. While they are working equipment and must be maintained and safely operated, they offer incredible cleaning efficiency as well as provide a solution for applying chemicals to higher areas of houses or buildings without the use of a ladder. Injecting the cleaning solution through the use of a downstream injector can allow washers to apply chemicals at heights up to three to four stories from the ground, depending on the flow rate of the pressure washer pump.
On a pressure washer, small gasoline engines ranging anywhere from 5-30+ horsepower are attached to a pump that pressurizes water. These pumps can produce pressures of anywhere from 1500 psi (pounds per square inch) to 4500+ psi which can be incredibly dangerous when not used with care. Pumps on these pressure washers have a specific amount of water they can flow which is typically measured in gallons per minute (GPM). Higher GPM machines can shoot water further and wash faster, and commercial pressure washers typically flow anywhere from 4 GPM to beyond 10 GPM, depending on the application.
Pressure Washing
Now what exactly defines pressure washing? In our industry, pressure washing refers strictly to the use of highly pressurized water to remove contaminants from a surface. Pressure washing is highly abrasive to the wrong surfaces and can easily damage soft materials such as wood or vinyl. Most objects being pressure washed are typically hard masonry surfaces such as concrete, bricks, pavers, etc. The water is pressurized by the pump at over 3000psi and applied by a gun with an angled tip at the end. Typical angled tips used to pressure wash with are either 15°, 25°, 45°, or a turbo nozzle. Surface cleaners are a fantastic piece of equipment used to clean flat surfaces that feature a spinning bar with high pressure tips at the end to clean concrete in a wide circular path, much like how a lawn mower has a spinning blade.
Examples of common pressure washing jobs we complete are usually driveways, sidewalks, patios, pavers, and entryways or parking lots for commercial customers.
Power Washing
Power washing is nearly the same thing as pressure washing, but with one key difference. Power Washing utilizes hot water and high pressure to help break up heavily soiled areas being washed to make the process faster and more thorough. This is specifically useful in colder weather and also on jobs that are very difficult to complete such as heavily oil-stained concrete or graffiti paint that bas been absorbed into porous masonry surfaces. Power washing also includes chemical treatments to help break up organic matter or heavy soiling before washing. Hot water pressure washers are not required for exterior cleaning with today's modern chemicals and is considered more of a tool that can be used to speed up some cleanings. The operator must be careful to not damage and surfaces that are sensitive to heat such as vinyl, or spraying very hot water on glass if it is very cold out.
Power washing with hot water can help make quick work of heavily soiled or greasy jobs including restaurant hood cleaning, graffiti removal, or removing gum from sidewalks. It is a pricier tool that provides a well rounded kit for power washing techs to tackle nearly any job thrown at them.
Soft Washing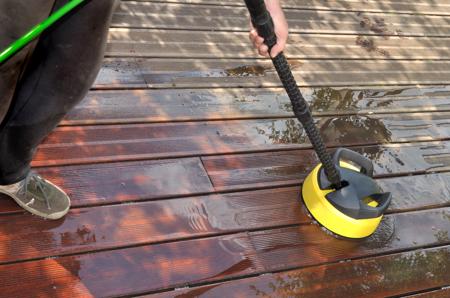 Stepping away from high pressure style washing, soft washing relies on the use of chemicals and low-pressure rinsing to do the cleaning. In soft washing, the chemical is typically applied diluted with water and left to sit and clean for a few minutes, and gently rinsed away. This style of washing was adopted for many reasons. It is much faster and more efficient, gentle on soft or brittle surfaces such as wood or vinyl, and safer since techs can apply chemical 30+ ft in the air from the safety of the ground. There are a few ways chemicals can be applied to soft wash surfaces.
Soft Washing Application Methods
First and foremost is the tried and true pump sprayer. These are chemical efficient and very affordable ($20-$30) and a great option for applying chemicals in small areas on ground level surfaces. Chemicals can be applied up to full strength or diluted and the sprayer must be cleaned out after each use.
Next is through downstreaming on a pressure washer. This is a good option for quickly applying chemicals at a light strength (pretty diluted) and is achieved through attaching a downstream injector to the exit side of the pressure washer pump and running a small hose to draw from a chemical bucket. They are relatively affordable but can only draw chemicals about as strong as a 10:1 ratio. Chemicals can be applied as high up as your pressure washer will shoot and can be applied to large areas much faster than with a pump sprayer. Downstream injectors feature a small spring inside them and a ball, and the spring eventually gets destroyed and must be repaired or replaced. Rinsing out the injector after each use is required to prolong the life of the spring. Some fancier downstream injector options exist that allow higher chemical draw rates and increased durability but are fairly expensive.
The last option is certainly the best and most advanced. A separate system is made up from a 12v battery powering a pump, typically 5.5gpm or higher. These are low pressure pumps with a high flow rate, so they do a great job of applying chemical very quickly and to high up areas. Nearly any cleaning solution can be applied with this setup at full strength and offer some of the best efficiency available. These require a separate water tank, chemical tank, a proportioning system, battery, pump, hose, reel, and gun. These are best suited for heavy commercial use and are not recommended for DIYers or homeowners.
Conclusion
Now we can see the many different ways exterior cleaning is completed and understand the difference between pressure, power, and soft washing. Pressure washing utilizes highly pressurized water to forcibly remove contaminants from hard surfaces. Power washing is the same but with added help from hot water and cleaning chemicals. Soft washing applies a cleaning solution and gently rinses it off along with all the other dirt and contaminants and is usually applied via a pump sprayer, downstream injector, or 12v soft wash system and rinsed off with a normal pressure washer using clean water to leave the surface looking brand new.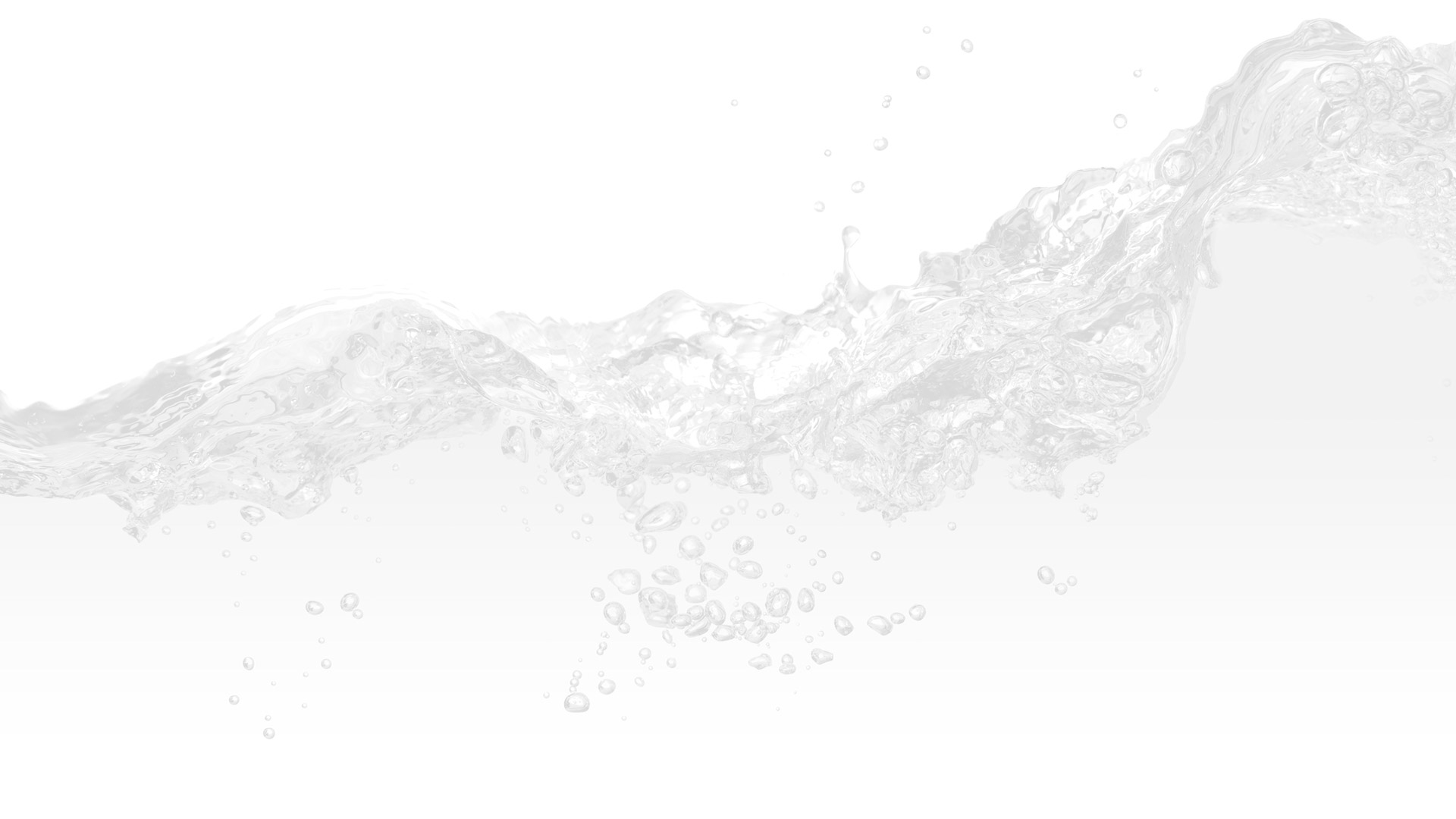 Recent Projects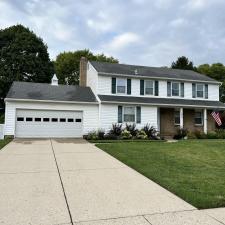 House Washing and Driveway Pressure Washing in Piqua, Ohio
Myra's neighbors recently had their driveway pressure washed, so the competition was on. She looked up local pressure washing companies and found us. She was pleased with the reviews so she gave us a call. We came out and washed her house as well as her driveway […]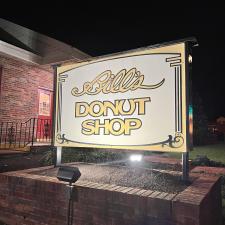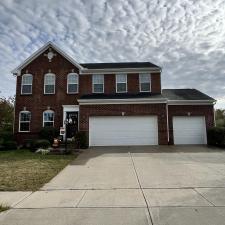 High Quality House Pressure Washing in Centerville, Ohio
Jamie received a notice from the HOA she lives in in Centerville, Ohio that she had mold and algae growing on her siding and was instructed to have it pressure washed and removed. Being a frequent service provider in Centerville for house washing and pressure washing, Jamie […]
Exterior Cleaning Articles & Tips
Why You Should Have Your Gutters Cleaned

Gutters play a crucial role in maintaining the structural integrity of your home and protecting it from various potential damages. Often overlooked, these simple troughs can cause significant problems if not maintained properly. Regular gutter cleaning is not just a chore—it's a necessary step to safeguard […]

How Often Should You Have Your House Washed?

Maintaining a clean and well-kept home is not just about the aesthetics, but also about ensuring the longevity of your property. One of the most effective ways to keep your house looking its best is by regularly washing it with a pressure washer. However, many homeowners […]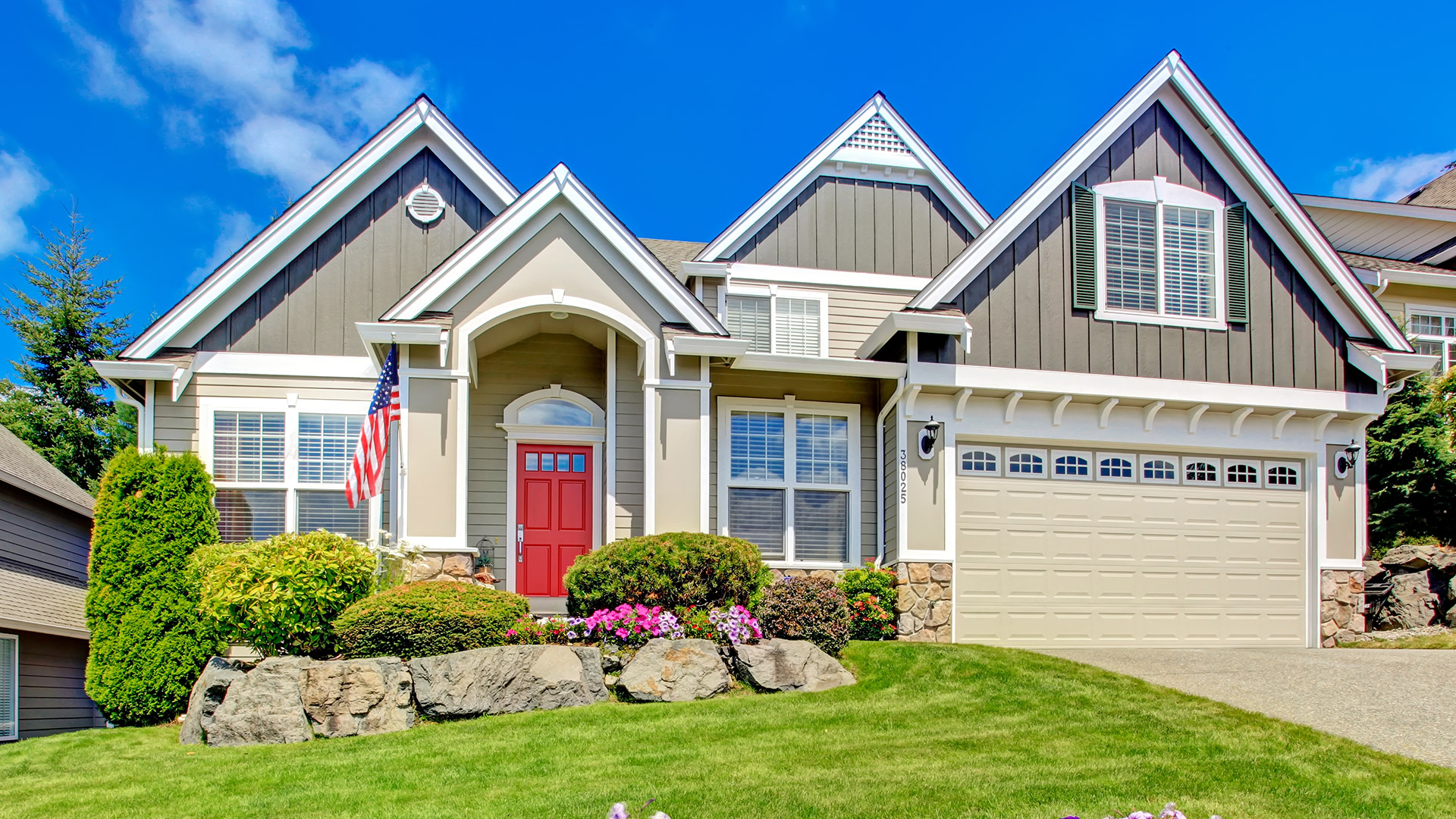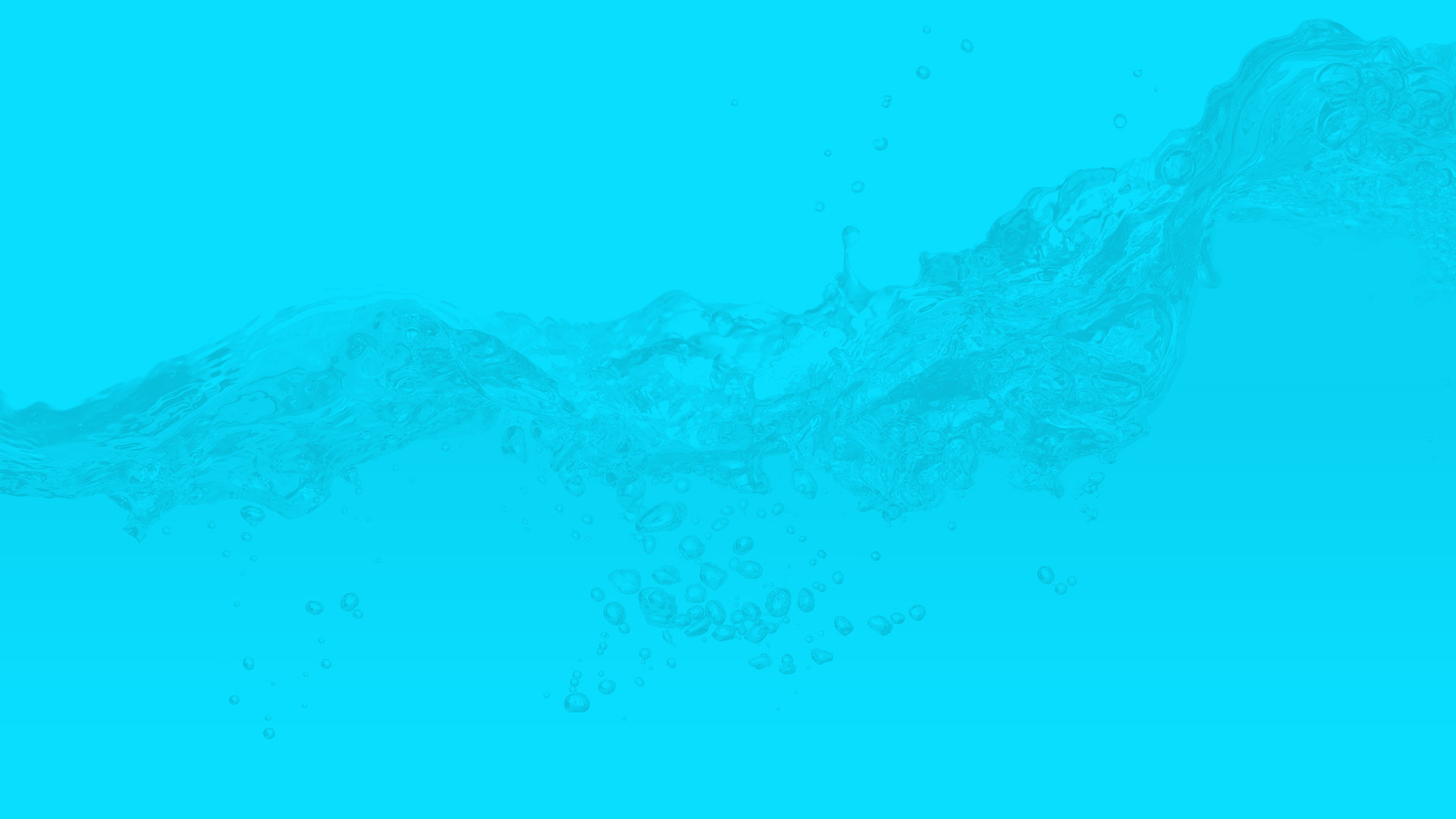 Contact Your Dayton Pressure Washing Experts Today!